SOLD: Model 21 #26,966, 20-gauge, 3-in. Mag., 28" M/F. $8,500. Call 440-670-1956 or via e-mail below.
For SALE: Model 21 #4,870 20-gauge, 2-3/4", 28" M/F. Double trigger, straight grip, extractor. $4,500. Call 440-670-1956 or via e-mail below.
Sling Swivels for the Model 21 are only listed in Component Parts Catalogs. Certainly Winchester fitted a few Model 21's at the factory, probably for the European trade.
A Connecticut gun-maker, who wishes to remain anonymous, gave me this fascinating 1935 letter from John Olin to Edwin Pugsley where he discusses problems with the Model 21.
A seldom seen catalog insert featuring quotes from gun writer and editor Capt. E.C. Crossman.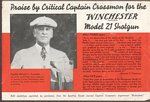 This insert accompanied the 'Chrysler Gun' Catalog.
A relative of Herb Parsons sent a link to a page dedicated to Herb. Take a look!
I've uploaded a table of Specifications of Double Barrel Shotguns. Click on this link and let me know what you think.
A reader writes - "I have a 21 my grandfather bought right after they came out. (sic)
traded a mule and $10 for it. I still have it and it is as tight now as the day he bought it".
I'm always in the market for anything '21', so if you have something you don't need or would like to trade, send me an e-mail.