HOME Catalogs Blueprints Advertisements Instruction Manuals Tables of Specifications Pamphlets
Special 21's
---
Maj. John W. (Jack) Hession
1877 - Febuary 1, 1961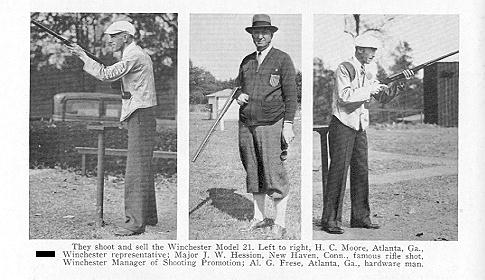 Winchester Skeet Book, form #1294 page 24, ©1934
Maj. John W. Hession, center above, was an accomplished rifle shot and Winchester's Shooting Promotion Manager. I am indebted to one of his great-grandsons who found my page while researching his great-grandfather and sent the obituary and American Rifleman short. Both articles chronicle Major Hession's life much better than I could paraphrase, so take a few moments and read about this remarkable and little known (outside the shooting world) gentleman.

click the image for full page view
Clearwater Beach, Florida


click the image for full page view
American Rifleman, March 1962
Major Hession's grandson also found this letter from the Major to General Hodges, 1st U.S. Army, discussing the Generals Model 21 order and inviting the General to the National Rifle Associations annual banquet of 1946. The letter clearly states that after WWII Winchester resumed production of the Model 21 in 1946 and that General Hodges' gun was the first order accepted! The strike referred to in the letter is by the United Steelworkers Union.
click the image for full page view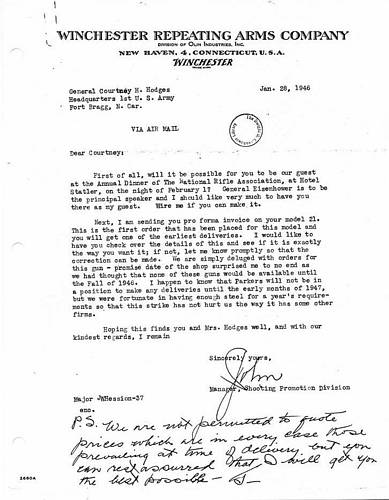 click the image for full page view
---
The Major is credited with designing the #3 forearm that bears his name. Hessions were made as slim and light as possible, this one, bottom in the photo, weights 10.6 oz. The forend of #20,277, 12 gauge Field weighs 13.5 ozs., note the drawing for the field forend is marked 'skeet' but the title and dimensions are for a field forearm (the top of the forend is even with the barrel center line). A typical 12 gauge Skeet weighs 11.4 oz. and a 12 gauge Trap 11.6 ozs.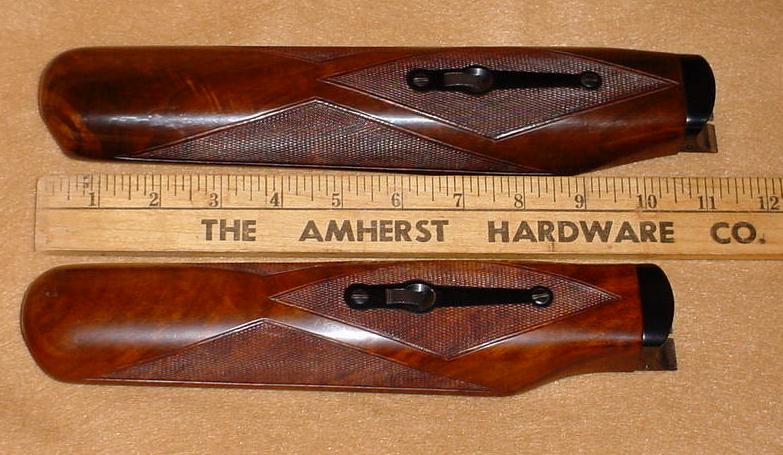 A Hession Forearm bottom, Trap above both from Duck Gun #30,136
Herbert G. Houze quotes Winchester engraver, Rudolph J. Kornbrath that he had "Major John W. Hessians'(sic) little 20 gauge skeet gun in the works and he is to have his two bird dogs reproduced in colors on that gun."1 The whereabouts of the Model 21 is unknown.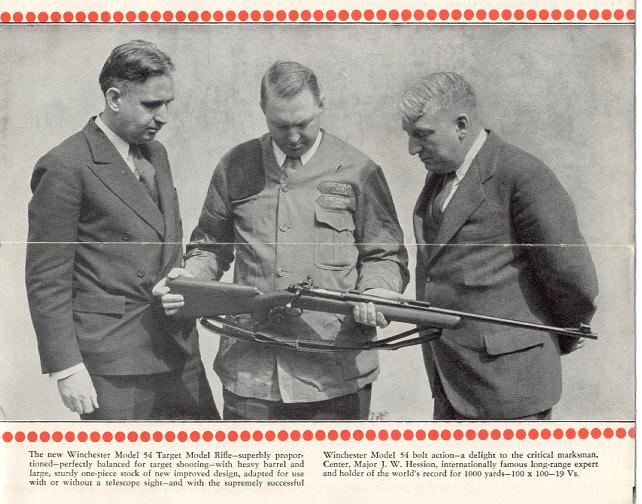 Frame from "New Big Bore Winchester Model 54 Target Rifles", form #1375 c.1935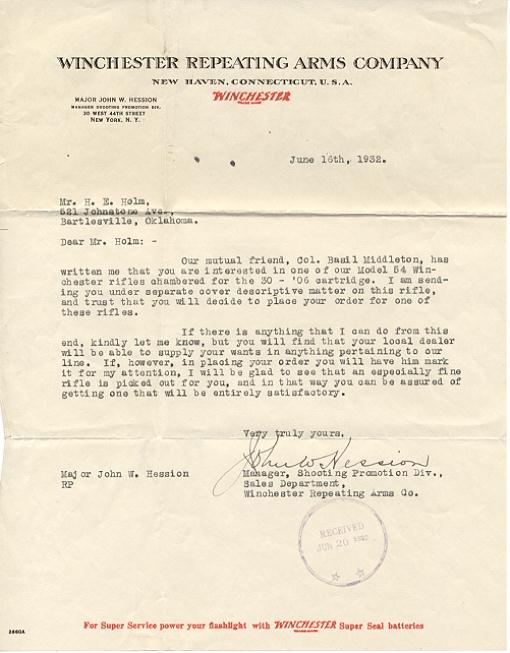 1 Herbert G. Houze, Winchester Repeating Arms Company (Iola, WI, 1994), p. 478.
---
©2010, M.C. Manges